Whats up everyone?
My name is Michael been in the Honda scene since the early 2000. I left the scene for a few years and got into Jeeps. After building 2 nice rigs I had that turbo Honda itch again. Sold my 87 AMC Cherokee for a rough but good running 94 civic. Civic had been stolen and rebuild but needed a core support and a paint job. But what sold it was the GSR swap and the GSR transmission with a ls 5th.
I turboed it and had it tuned and it was good for about 6 months. Turned out the motor was in not so good shape when out of no where it spun a rod bearing. I had a friend that was building a LS block but his car had a tree fall on it in his driveway so he gave me the block and internals. Built a stock internal LSvtec. After almost a year I lost compression on cyl 1 and the motor started smoking. tuned out I destroyed the ring lands on piston 1 and piston 3 also had a cracked ring land. Installed pistons and rods and this is the motor that is in the car as of right now.
Specs:
94 Civic EX
B18A1 block
Nippon racing pistons
eagle rods
acl race bearings
GSR head
ARP head studs
cosmetic head gasket
Skunk2 pro intake
750cc injectors
AEM fuel rail
Webro 355lph fuel pump
GM 3bar map sensor
Turbonetics t3/t4 63a/r
cast top mount manifold
ebay intercooler kit
BoomBa focus ST ecoboost bov(one of a kind and the only Honda I know of that is running one)
Tuned on crome pro
The GSR made 291hp at 10psi
I'm currently tuning this setup myself. Once I get it close I'm going to put it on a dyno and have a tuner fine tune it.
Tuning set up
chipped p72 ecu
HP laptop
crome pro
Moates Ostrich 2.0 realtime emulator
Moates burn2 chip programmer
Moates extreme Hulog
AEM wideband (wired into the ecu for data logging)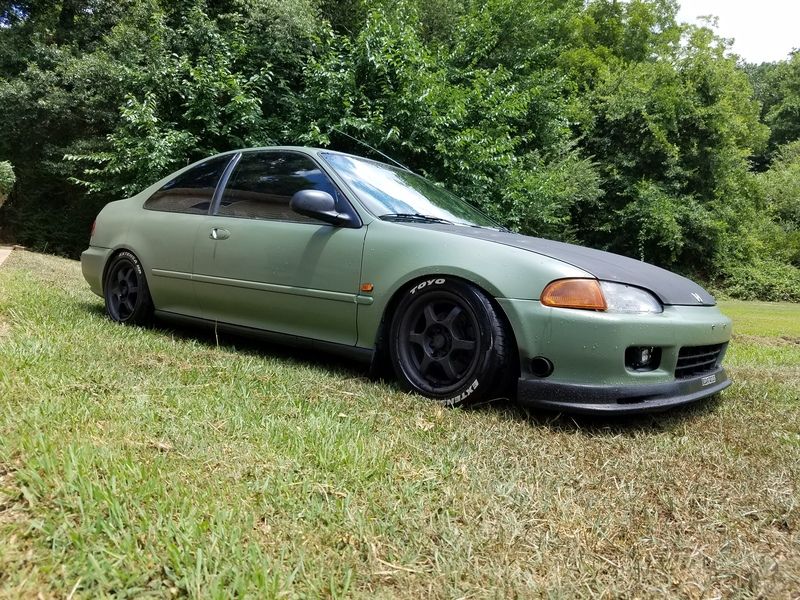 The one off bov